Easter is coming and I was asked to make a Züpfe (Swiss braided bread) or Dreikönigskuchen (Secret Surprise Bread, as I like to call it). Yes, it is full of surprises. The "three kings cake" is a traditional sweet bread roll that has a special hidden treat (heatproof of course) baked inside one of the outer pieces of the bread. Whoever gets that piece gets the glory of being king or queen for the day!
So what did I do? I made a surprise bread. A chocolate spelt bread. Yes, surprise it is made with white and whole spelt flour and yes, it's braided. Braided with a delicious layer of dark chocolate spread. Of course, you could just make this with good old white flour and the remnants (if there are any) from a jar of Nutella. I opted for a slightly healthier variation. One my favorite Schwabe can enjoy as breakfast in bed, just as he does with his Nutella on toast!
Click to enlarge: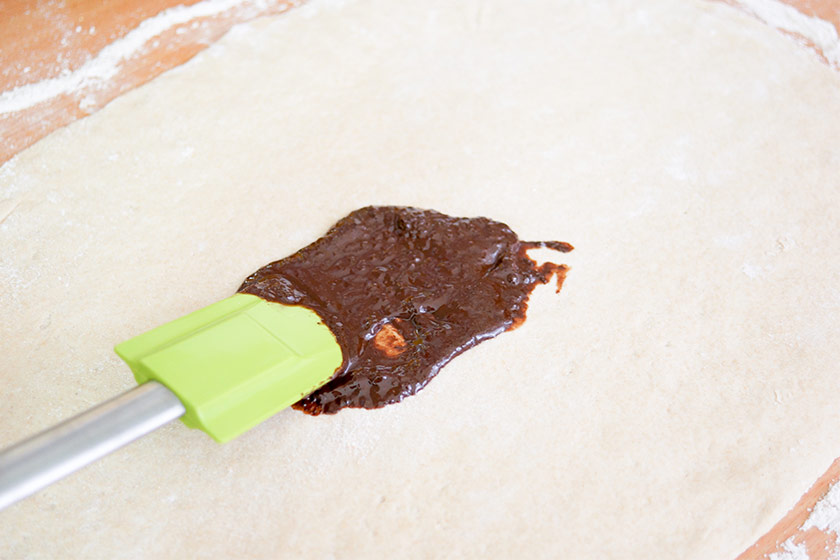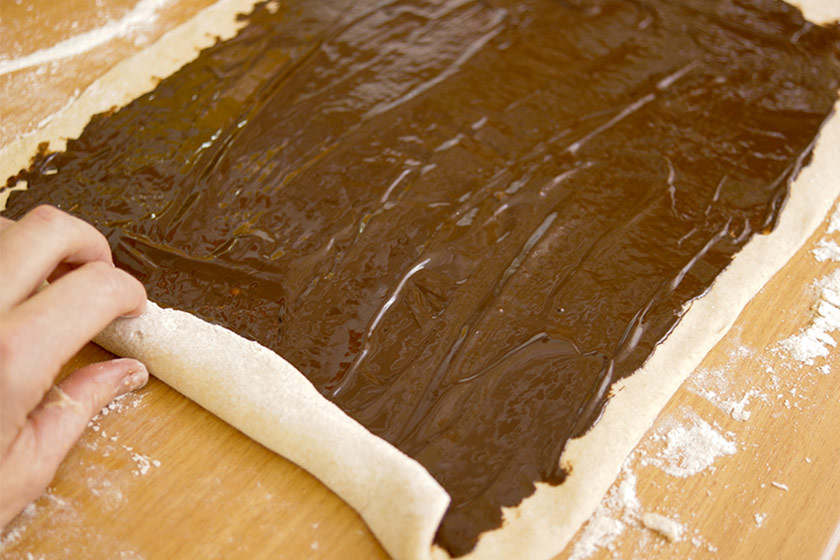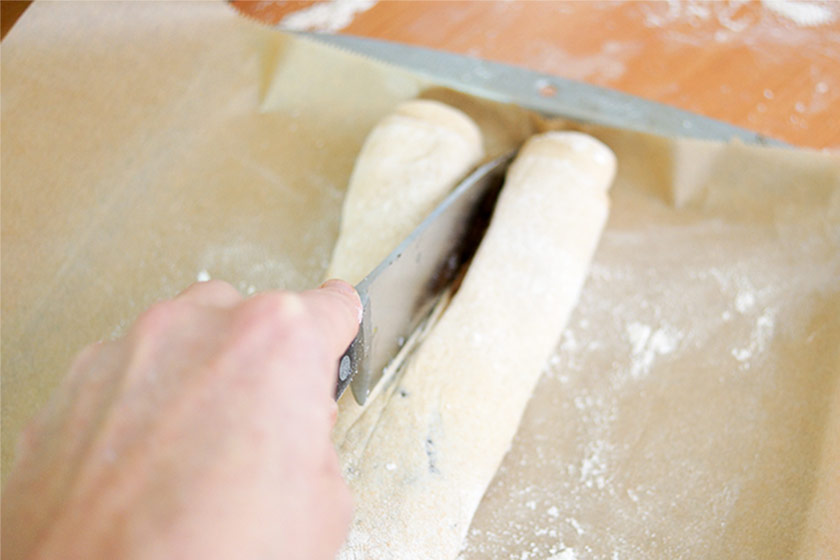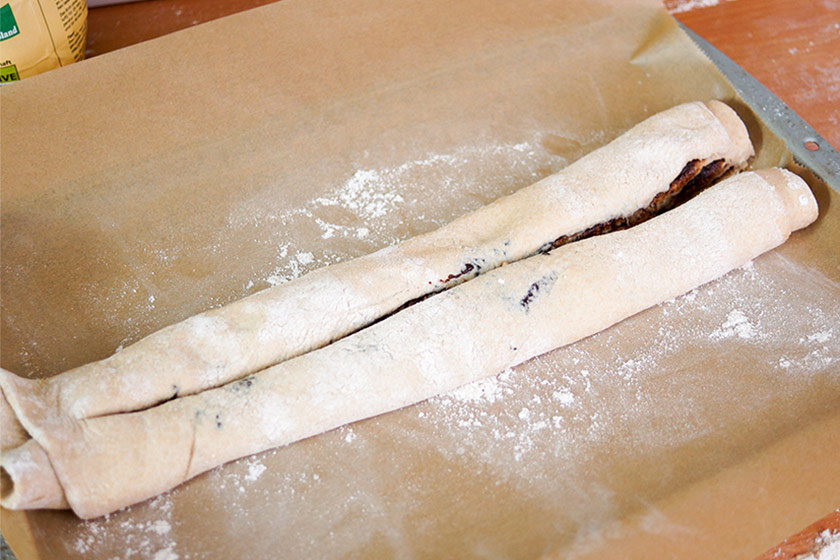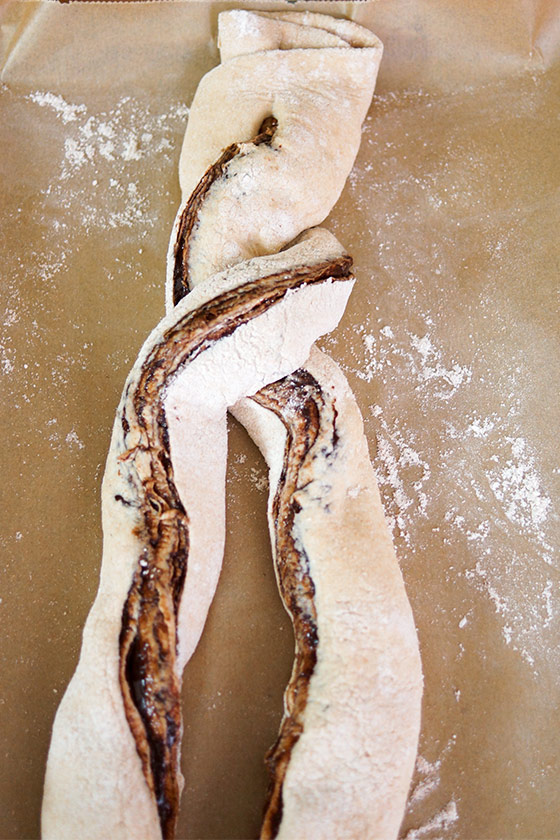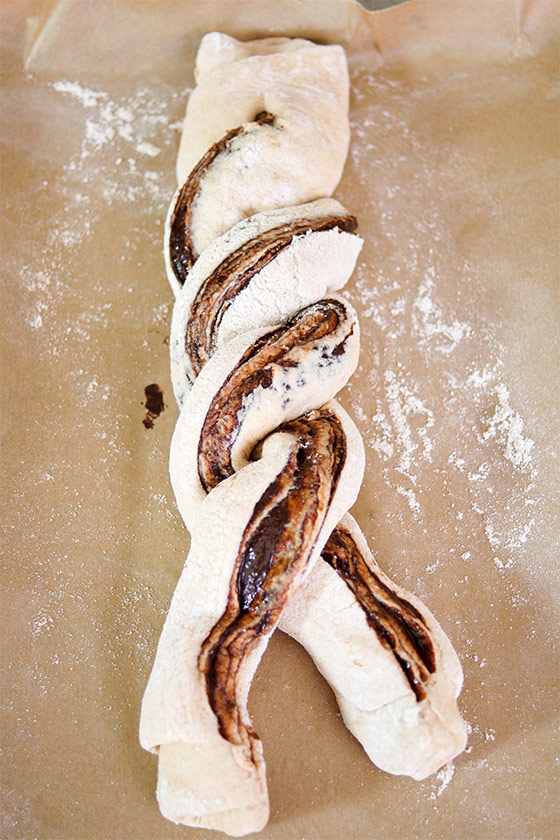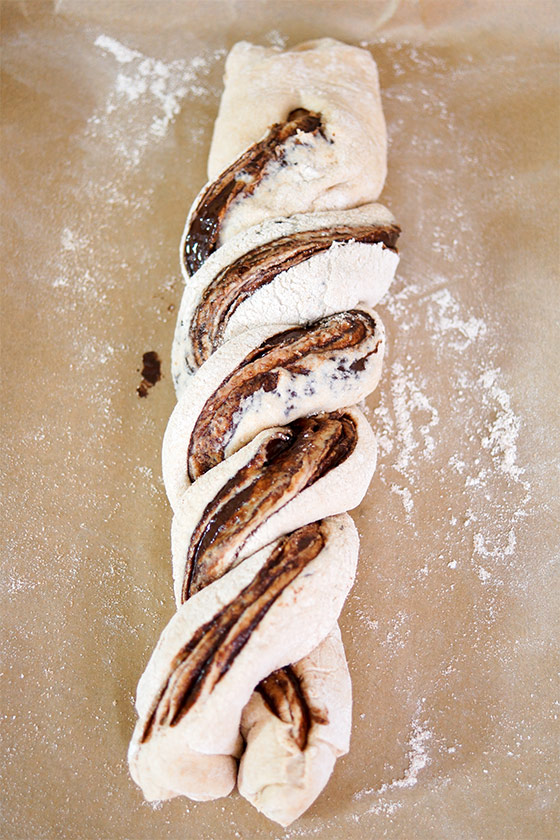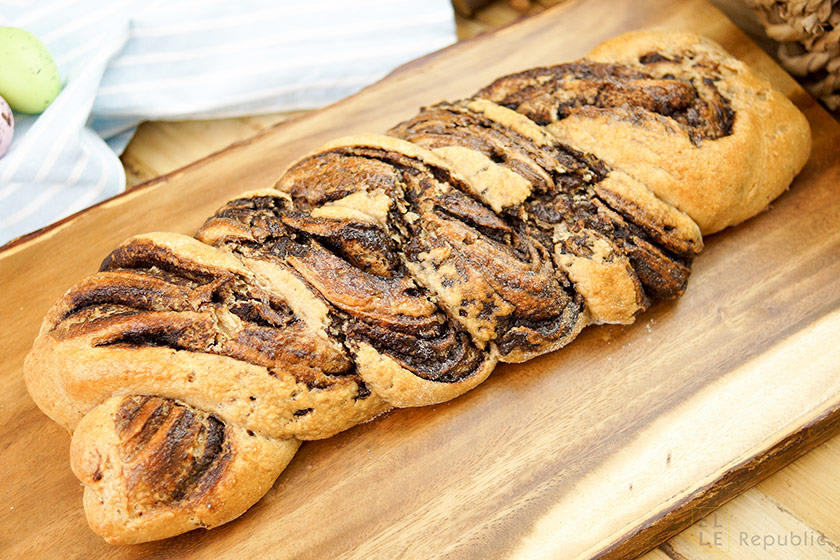 Braided Chocolate Spelt Bread
INGREDIENTS:
7 g packet active dry yeast
1 cup warm water (250 ml)
1 1/2 cups white spelt flour (Type 630) (200 g)
1 cup whole spelt flour (130 g)
1 teaspoon sea salt
1 tablespoon raw cane sugar
1/2 cup chocolate spread (I used a dark chocolate olive oil spread) (125 ml)
cornmeal for dusting
1 egg, beaten with a tablespoon of water to use as an egg wash
METHOD:
1. In a small bowl, dissolve yeast in 1/4 cup (60 ml) of the water. Let sit for 10 minutes to activate.
2. Meanwhile, combine the flours, sea salt, and raw cane sugar in a large mixing bowl (or the bowl of a stand mixer). Add the yeast and the remaining water, mix on low using the dough hook attachment. Turn speed up to medium, and knead for 7 minutes until the dough is very elastic.
3. Transfer the dough to a lightly oiled bowl. Cover the bowl loosely with plastic wrap, Let the dough rise in a warm, draft-free place until it has doubled in size, about 1 hour to 1 1/2 hours.
4. On a well-floured surface, roll out the dough to form a rectangle, similar in size to a 30 x 38 cm baking sheet. Slather the chocolate spread in an even layer on the surface, leaving a 1.5 cm border of dough.
TIP: I find it helpful place the jar in a hot water bath just long enough to give it enough heat to cause it to melt a little. This makes spreading it much easier.
5. Roll the dough tightly and place on a baking sheet lined with parchment paper and sprinkled with cornmeal. Use a sharp knife to cut the dough down the middle, being sure to keep one end intact. Twist ends overtop each other, making sure to turn the cut side toward the top. Cover the dough loosely with plastic wrap and let rest for 20 minutes.
6. Meanwhile, preheat the oven to 350°F / 180°C.
7. Brush the surface of the bread with the egg wash. Bake bread for 20 minutes, then increase the temperature to 425°F/200°C and bake until lightly browned, about 5-6 minutes more. Remove from oven and let cool before serving.
NOTE: Be sure to keep a close eye on your bread when you increase the temperature!
8. Enjoy!
[print_link]
Related posts: