This dish with giant white beans in a no-cook tomato sauce has got to be the easiest thing to put together while on holiday. Especially in the south of France where ripe tomatoes are plentiful, as is fresh basil. Okay, truth be known, I actually brought the bag of "Riesenbohnen" (aka jumbo or giant beans) with me from Germany. I know, strange indeed, but I love these beans and wasn't sure I would find them in Aix en Provence. And I was right. Green puy lentils, caviar lentils and dried chickpeas are the only things I've stumbled across. Plus oh-so popular superfood quinoa.
I haven't cooked these beans for ages now. Preparing them takes a little foresight, and in summer with so many nights out (remember we don't have a balcony!) dinners at home are spontaneous. So during those two weeks where we spend our summer holidays with the kids in a Airbnb rental with a terrace and a pool, it's another story. We cook in a lot, but as every year, cooking while on vacation means sticking to simple recipes with locally grown fresh produce, just like this one. We enjoyed this with brunch along with some crusty bread and a green salad.
As a vegetarian dish, this dish is of course a great source of protein, antioxidants and fiber. The addition of the no-cook tomato sauce not only makes the beans tastier but the vitamin C in the tomato helps increase the absorption of iron from the beans.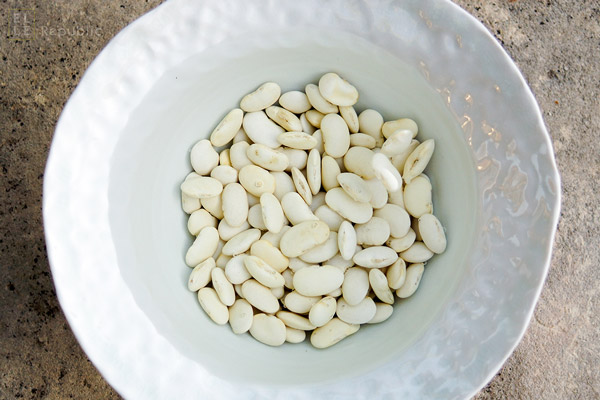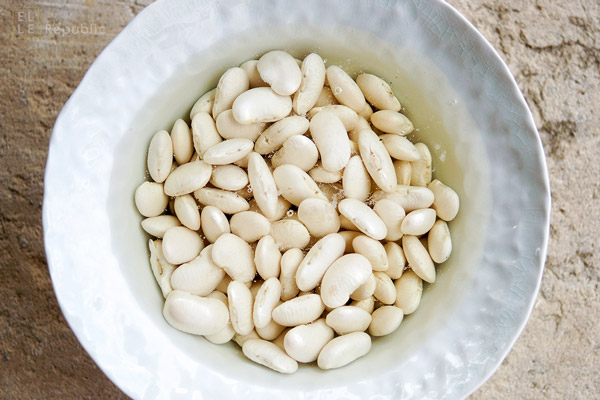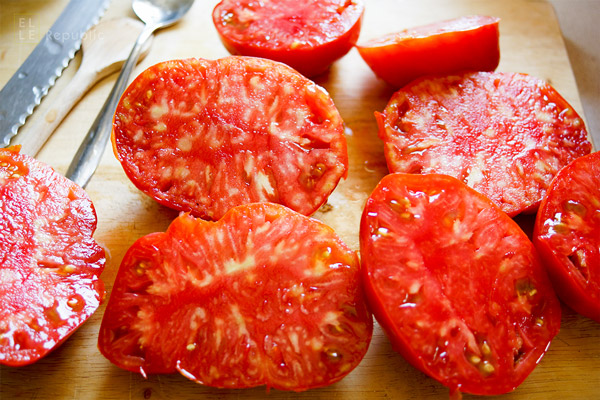 Choosing tomatoes for a no-cook tomato sauce
I used fresh local beefsteak tomatoes for my sauce which have a lot of flesh and little seeds (when selecting them, remember the heavier, the better), so depending on what sort you choose you may need more or less. Therefore, I list 1 to 1.5 kg of tomatoes in the recipe. Vine-ripened plum tomatoes are perfect for this sauce too. Plum tomatoes have more flesh and fewer seeds than other types, making for a thicker sauce.
Giant White Beans with No-Cook Tomato Sauce
This jumbo white bean and no-cook tomato sauce makes for a perfect side dish. It's especially excellent for anyone following a vegetarian, vegan or gluten-free diet. Although it's a quick and easy recipe to prep, the active cooking time is somewhat long, so planning ahead is required.
INGREDIENTS:
250 g dried jumbo white beans or butter beans (soaked in water overnight — the longer, the better)
1-1.5 kg fresh, high-quality, in season tomatoes (plum or beefsteak are good choices)
1 large garlic clove, minced
2 tablespoons fresh lemon juice
1 teaspoon sea salt, plus more to taste
1/2 teaspoon freshly ground black pepper
generous handful fresh basil, cut into thin strips
To serve:
freshly grated parmesan
drizzle of extra-virgin olive oil
METHOD:
1. To prepare the beans: Drain and rinse the soaked beans. In a large pot, add the beans and cover with water by 4-5 cm. Bring to a boil, reduce heat to a low simmer and cook, partially covered, until the beans are tender, but still hold their shape. The beans should be cooked but not mushy. This will take about 90 minutes depending on how long the beans were soaked.
2. Make sauce while beans are cooking so that it has time to sit and let the flavors develop. At least one hour ahead.
3. To prepare the tomatoes, cut them in half and remove the seeds. Using a box grater, grate the tomatoes (against the side with the large holes) into a large bowl. Discard the leftover skin.
NOTE: if you like to have some chunks of tomato in your sauce then grate two thirds of the tomatoes and seed and chop the last third. This was easy to do with beefsteaks as I cut out and chopped the inner flesh, grated what remained, and discarded the skin.
4. Add the garlic, lemon juice, salt, pepper and let marinate at room temperature until ready to use, at least 1 hour. After the flavors have melded for a while, taste and adjust seasonings as needed.
5. Once the beans are done cooking, drain and rinse under cold water, then toss with the fresh sauce. Add the basil and toss again. Serve immediately or at room temperature with an extra drizzle of olive oil and freshly grated cheese on top.
6. This recipe for White Beans with No-Cook Tomato Sauce also makes great leftovers. It can be stored in an airtight container in the refrigerator for 2-3 days. Enjoy!
[print_link]
Related posts: